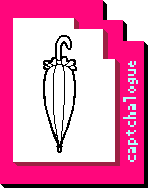 Umbrellakind is one of the Strife Specibi used in the Overseer Project. Base item(s) in this Specibi start off poor at offense.
There are currently 18 weapons available for this strife kind.
Base Item(s)
There is currently one Base Umbrellakind weapon.
Umbrella
3 Power
1 Abstain Bonus
Onehanded
Costs 4 Build Grist
Code: 9Qkm?iSL
Description: I guess you could use this to protect you from the rain? It's pretty bad at offense.
Known Weapons
Double Umbrella
Double umbrella, double fun! It's bad at protecting from the rain though.
Strength: 6
Abstain: 2+
Cost: 8 Build Grist, 6 Rust
Drying Pan
Umbrella || Frying Pan
75 Power
5 Accuse Bonus 10 Abjure Bonus 15 Abstain Bonus
Costs 1000 Build 500 Rust 100 Titanium
Code: l!lu?jyz
Description: Luckily, my Frying Pan also doubles as... a DRYING Pan.
Barber's Best Friend
Umbrella && Straight Razor
22 Power
1 Assail Bonus 5 Abstain Bonus
Costs 20 Build Grist, 10 Rust
Code: 8AEGS4K0
Description: Not actually particularly useful for shaving, the multiple blades in a radial pattern have a habit of chopping off things you probably want to keep attached. On the plus side, they also chop off things your enemies wanted to keep attached.
Peachy Parasol
45 Power
10 Accuse Bonus, 20 Abjure Bonus, 30 Abstain Bonus
Costs: 500 Frosting and 50 Rose Quartzt.
Code: 9xko?yyL
Description: An umbrella suited for only the most dainty of princesses. It smells great and packs a wallop!
Angelic Parasol
Components: ?
Power: 77
Cost: 1000 Build Grist, 99 Diamond, 99 Polychromite
Code: lR!s!zzt
Description: Float off into the sky on the wings of angels.
Adele's Umbrella
​Components: ?
Power: 101
Cost: 4000 Build, 4000 Jet and 1500 Sulfer
Code: 1I0G2W8G
Abstratus: Umbrellakind; Flamethrowerkind
Description: Feel the wrath of Adele under the fire-setting rain protector! Fell the power of litterally making the rain feel the pain of flames! If you're going to have a broken heart, might as well ablaze your enemies while you're at it!
Pen-Guin's Umbrella
Barber's Best Friend && Alonwrite
3400 Power
29 Aggress Bonus, 29 Abuse Bonus
Costs 150,000 Chalk, 150,000 Obsidian, 120,000 Tar, 70,000 Titanium.
Code: 086GS4K0
Description: A rather sharp looking Umbrella with a long blade at the end, covered in ink. Classy monocle not included.
Umbrella && Laser Pointer
154 Power
10 Abjure Bonus 20 Abstain
Costs 2000 Build Grist, 1500 Redstone, 1500 Ruby, 150 Titanium
Code: 82W0Ka45
Description: [T]his fires a laser when you open or close it. Completely useless against rain.!
Lazer Umbrella (not to be confused with above)
Umbrella || Laser Pointer
296 Power
25 assault Bonus
Costs 10000 Build Grist, 10000 Cobalt, 12000 Ruby
Code: fR?w?zSt
Description: Oh dear, it seems to be raining. I'll just open up my umbrella here and- BWAAAAAAAAAAAAAAAA!
Sonic Umbrella

305 Power
+5 Assault, +5 Abstain
Costs: 9000 Emerald, 1 Polychromite, 9000 Titanium, 30000 Uranium
Code: 900GA4K0
Description: They'll make a sonic everything these days.
Abstatus: Umbrellakind; Toolkind; Sciencekind
Magic Umbrella
Umbrella || Slytherin Pins
600 Power
20 Abuse Bonus, 20 Accuse Bonus
Costs 80,000 Build Grist, 80,000 Frosting, 50,000 Rock Candy, 80,000 Shale.
Code:  BRlm??UL??UL
Description: Typically found in the possession of British nannies, this magic umbrella has the ability to merge real life and cartoon fantasies.
Trusty Umbrella

15 Power
Costs 10 Build Grist, 1 Caulk, 15 Uranium
Code: 1AWmqaKG
Description: This umbrella was fashioned from an old umbrella frame and the rusty flags of several mailboxes. Shield yourself from rain, sun, and anything/everything that can and will be stabbed.
Rapid-Fire Umbrella
135 Power
Costs 2000 Obsidian, 13000 Shale
Code: hRkt!lST
Description: Let a smile be your umbrella. Then shoot them with it.
Grappling Hook
Riflekind; Umbrellakind
58 Power
8 Assail; 8 Assault
Costs 1500 Build Grist, 1000 Copper, 25 Titanium
Code: hBEtTlKT
Description: The sharply clawed hook is perfect for gripping, and now it can be propelled long distance.
Rose Tinted Umbrella
Umbrella && Rose-Tinted Shades
210 Power
25 Abjure Bonus
Costs 21,000 Build, 25,000 Frosting, 10,000 Rose Quartz
Code: 9QcGmaCK
Description: Things under this just seem a little bit better.
Chim Chim Cheree Chaser
Magic Umbrella && Broom
3000 Power
40 Abuse Bonus 35 Accuse Bonus
Costs 200,000 Chalk, 200,000 Frosting, 100,000 Mercury, 200,000 Rock Candy, 100,000 Shale.
Code: 103WOm4K
Description: Covered in soot, a magic endowed weapon that can cover the wielder with an impenetrable veil of coal dust.
Dragon Wing Umbrella
Magic Umbrella || Skyrim: Collector's Edition
4000 Power
100 to Abuse, Accuse, Abjure, and Abstain Bonus
Costs 200,000 Build Grist, 500,000 Blood, 200,000 Malachite, 100,000 Opal.
Code:  hxlr?!ULhxlr?!UL
Description: An umbrella whose flaps resemble the tissue of a dragon wing. It supposedly contains the soul of a dragon, but whoever designed it certainly doesn't have a soul for fashion
Green Solar Flare Protecter
Components: Parawand && Green Sun on a Stick
9999 Power
+9999 to Aggrieve, Aggress, Assail, Assault, Abuse, Accuse, Abjure, Abstain
Costs 7244000 Build Grist, 1885000 Amber, 3592000 Cobalt, 3592000 Diamond, 1223000 Gold, 3432000 Jet, 954000 Mercury, 400000 Obsidian, 345000 Opal, 261000 Polychromite, 308000 Rainbow, 383000 Redstone, 2206000 Rust, 1175000 Tar, 295000 Titanium, 2949000 Uranium
Code:23DWc404
Description: This umbrella is one of the few things that can withstand the heat of the green sun. It's also pretty damn powerful.
Gunbrella
35 Power
5 Assault, 5 Abstain
Costs 60 Build Grist, 35 Amethyst
Code: B!!r?iSz
Description: What appears to be an ordinary umbrella is actually a shotgun in disguise! Opening and closing the umbrella pumps the shotgun. How clever!
Parawand
5050 Power
+50 to Aggrieve, Aggress, Assail, Assault, Abuse, Accuse, Abjure, Abstain
Costs 50,000 Build Grist, 250,000 Diamond, 505,050 Sunstone
Code: BRFmk?UL
Description: An umbrella that was used by only the best of magicians. It is so powerful that you almost forget that magic isn't real.