A strife specibus available on the Overseer Project.
Base Items
Blank Protest Sign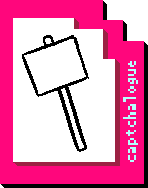 You would protest a worthy cause, but that's too mainstream. Instead, you stand there holding a blank sign.
Code: HJdH08o2
Strength: 4
Aggrieve: 2
Aggress: 2
Abjure: 2
Abstain: 2
Abstratus: Signkind
Cost: 4 Build Grist

Stop Sign
The entry of your house managed to bring one of these with you. Might as well make some use of it.
Code: ?7n9G9tn
Strength: 7
Assault: 1
Abuse: 1
Accuse: 1
Abjure: 1
Abstain: 1
Abstratus: Signkind
Cost: 6 Build Grist, 4 Rust
Alchemized Items
It's No Use
Code: zVtxQQ?7
Abstratus: Signkind
Strength: 60
Description: This sign gives you the power of ESP so long as you shout out ridiculous battle cries. The downside? You can only pick up and throw crates and hedgehogs.
Cost: 150 Build_Grist, 100 Quartz, 250 Uranium
"No Loafing" Sign
Code: E9p34eK4
Abstratus: Signkind
Power: 1400
Aggrieve: 75
Aggress: 50
Assail: 25
A sign with the words "No Loafing!" printed on it in red, you're not sure why it packs such a punch but you suddenly feel much more productive while holding it.
Cost: 134000 Blood, 118000 Chalk, 158000 Copper, 82000 Mercury
Community content is available under
CC-BY-SA
unless otherwise noted.