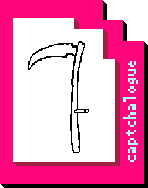 Scythekind is one of the Strife Specibii in The Overseer Project. Scythekind weapons are usually two handed, and typically provide bonuses to the Assault active option.
There are currently 53 Scythekind weapons in game.
Base weapons
There are two Base weapons for Scythekind
Farming Scythe:

9 power
+2 Aggreive bonus
Two handed
Costs 10 Build Grist
unkohS1K
Description:A sharp real scythe used for shearing wheat.

Replica Reaper Scythe

7 Power
No bonus
Two handed
Costs 10 Build Grist
Xer34P2k
Description: A large grim-reaper stype replica scythe. It is completely blunt, but still pointy and heavy  .
Currently known Scythekind items
Computer Scythe
Farming Scythe || Computer
Power: 12
Bonus: None.
30 Build, 15 Copper, 40 Tar
Browsing the internet with this device will steal your enemies' souls instead of yours! A must-have for the modern teenage reaper.


Nook's Slashed Prices
Farming Scythe || Animal Crossing Disc
Power: 20
Bonus: Aggreive +6 Agress +5
40 Build, 10 Gold
This item is the embodiment of one's search to pay off the debt of bells to a certain raccoon. 
Scything Spades
Farming Scythe || Blackjack Deck
Power: 26
Bonus: Aggress +4
30 Build, 50 Jet
A black-bladed scythe perfect for tearing through your kismesis!
Crowd Trimmer
Replica Reaper Scythe && Farming Scythe
Power: 30
Bonus: Nothing
50 Build, 20 Jet, 40 Shale
A long and sharp scythe, used by soul farmers to harvest necks.
Scythe of Souls
Farming Scythe II Dark Souls
Power: 30
Bonus: Aggrieve +6 Agress +2 Abuse +3 Acuse +1
25 Build Grist 10 Blood 35 Tar
wvkp!Uf!
The blade seems to emit a strange hum as a dark aura surrounds you, and if you listen closely voices can be heard coming from it.
Skullscythe
Replica Reaper Scyther && Skull
Power: 41
Bonus: Nothing
36 Caulk, 1111 Jet
An ancient-looking scythe engraved all over with skulls. You're just about ready to take these imps... to skull.
Scythe of Petals
Replica Reaper Scythe || Kingdom Hearts Disc
Power: 45
Bonus: Nothing
300 Amethyst, 300 Frosting, 15 Rose Quartz
A brightly-colored scythe wielded by a Nobody with an affinity for flowers. It has a slight scent of roses.
Ticking Death
Replica Reaper Scythe && Dark Souls
Power: 66
Bonus: Assault +6 Accuse -3 Abjure -3 Abstain -3
2000 Build, 666 Blood, 666 Jet, 66 Titanium
W8414G0k
A somewhat average scythe in terms of weight and size, but a bit more power than that of most. The blade itself being made of energy allows what passes for sharpness in an energy blade to last.
GhoulShredder
Power: 82
Bonus - Highest active +8
100 grist 50 amber 50 blood 50 iodine 50 jet 5 titanium
code - 

Y044HW0K
​Post Apocalyptia has NOTHING on these shears - patterned in the dust color of the Capital Wasteland, and more dangerous than any irradiated animal YOU'VE ever seen, this oversized pair of chainscythe-shears is a must-have for anyone who likes dangerous things.
Scyther Claws
Farming Scythe ll Pokemon Pearl Version
Power: 123
Bonus: Agress +12 Assail + 13 Accuse -2 Abjure -5 Abstain -8
11223 Chalk 1230 Emerald
It is nearly impossible to parry these attacking scythes. Your movements will be like a ninja's.
…SYTH
Replica Reaper Scythe && Picture of Hella Jeff
Power: 250
Bonus: All -500 
-500 Artifact
The unhallowed weapon of the JPEG REPAER
Distortion Scythe
Farming Scythe && Pokemon Pearl
Power: 484
Bonus: Nothing
 48,400 Marble, 4840 Polychromite

, 24,200 Rose Quartz
A large, sharp lavender scythe with a pink blade. The scythe is embedded with pearls. It gives off a very mysterious aura, and glows purple. If you stare at it long enough, you think you can see into an alternate dimension...
Gunblade Scythe
Replica Reaper Scythe && Rifle
Power: 500
Bonus: Nothing
55,726 Build, 20,951 Obsidian, 19,128 Redstone
Straight out of the RWBY Red Trailer, Now you can tear monsters apart with Red's scythe all you want! Light-weight, and Folds up neatly into a box for easy access and storage.
Scorpio Tail
Fluorite Octet || Replica Reaper Scythe
Power: 512
Bonus: Assault +128 Abjure +128
88,888 Build, 88,888 Cobalt, 8888 Star Sapphire
The secret power of the fabled Thief of Light, but in scythe form. "16777216" is engraved across the blade.
Scorpion's Venom
Fluorite Octet || Lifehunt Scythe
Power: 888
Bonus: Assault +88 Abuse +88 Accuse +66 Abjure +44
188,888 Cobalt, 88 Rainbow, 13,888 Star Sapphire, 88,888 Uranium
Feel the poison of its power consume you.
Apocalypse Horseman's Reaper
Skull Scythe || Darksiders 2
Power: 1250
Bonus: Assault +50
181,000 Jet, 10,000 Rainbow, 38,000, Star Sapphire, 118,000 Tar
The scythe of the infamous horseman, Death. Not to be confused with all the other scythe-wielders named Death.
Come Hell and Highfire
code: X0H30020
cost 1600 build, 1500 amber, 500 sulfer
Strength: 99
Assail bonus: 17 
Description: The grim reaper's souvenir given to him when he returned from hell, and still he can't find the switch that turns off the flames.
Scythe of Pestilence
Made from the forces of armegeddon, as well as poison of death brings forth this weapon!  With but a swing, the Earth would fall to its knees!  Too bad meteors destroyed it first.  Also Earth doesn't have knees.
Strength: 1,200
Abuse: 200
Accuse: 200
Abjure: 200
Abstain: 200
Doom Affinity: 20%
Cost: 90000 Build Grist, 91250 Malachite, 93750 Mercury, 92500 Obsidian
Code: yYiF0OhL
Combined Scythekind Items                                                                               
It is also possible to combine other kinds, such as the Glovekind with Scythekind, to create a GloveScythekind as Carrying a scythe around can become cumbersome for weaker players, and havng one in a gloved form would benifit them. 
Most Powerful Scythekind weapon
Chaos Rampage
​9999 Power

+9999 Abuse, Accuse, Abjure, Abstain, Aggrieve, Aggress, Assail, and Assault bonuses

2 Handed

Scorpionis Infinitate || Prism Astral Alchemy Cutlass Bazooka

Cost: 40,000,000 Build Grist, 10,000,000 Amethyst, 5,125,000 Caulk

, 7,000,000 Malachite

Grist

, 12,500,000 Mercury

, 6,250,000 Obsidian

Grist

, 2,390,265 Polychromite

Grist

, 2,062,500 Quartz

, 1,953,130 Rainbow

Grist

, 2,781,250 Star_Sapphire

gRzpVDv?

The weaponized souls of two heroes combine to make this weapon, the harbinger of death and destruction with a legendary power.
Community content is available under
CC-BY-SA
unless otherwise noted.