Riflekind is one of the available Strife Specibus in the Overseer Project. There are currently 94 weapons of this type. Codes are whitened out to minimize spoilers.
Base Items
Rifle
Assail Penalty: -3
Assault Penalty: -5
Description: A firearm with more power than a pistol, although it does take up both your hands. Don't forget to aim! 
Cost: 10 Build Grist
Code: 

h3Ad5h0T
Alchemized Items
Violin Rifle
Strength: 40
Aggrieve Bonus: 4
Cost: 100 Build Grist, 50 Cobalt Grist, 50 Copper Grist
Description: An interesting yet effective means of playing sweet, soothing tunes while blasting the face off of an imp or two. The peg box is removed to expose the barrel of the rifle hidden within the body of the instrument.
Code: hRAt5I?!
Fus-Rifle-Dah
Strength: 500
Assault Bonus: 50
Abuse Bonus: 10
Abstain Penalty: 25
Cost: 50,000 Build Grist, 75,000 Cobalt Grist, 1000 Rainbow Grist
Description: A rifle that makes everything fly away from you. Strangely useful!
Code:

hxFt5l4T

Girl's Best Friend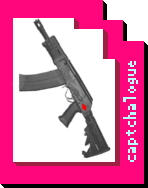 Rifles made of diamonds (or at least diamond grist) are a girl's best friend...
Strength: 7550
Cost: 500,500 Diamond
Size: Large (40)
Abstratus: Riflekind
Code: Y18d1805
Ahab's Crosshairs
Strength: 9999
Cost: 16,777,215 Build Grist, 1 Star Sapphire
Description: Legendary piece of shit only wielded by the most desperate of wwhalers.
Code: FFFFFFWW
BFG65535
Power: 9999
Bonuses: +9999 to all passive/active attacks
16777215 Build, 6553500 Copper, 655350 Diamond, 8388607 gold, 6553500 Jet, 6553500 Mercury, 6553500 Rainbow, 655350 Redstone, 655350 Sulfer, 6553500 Titanium
Description: 

This weapon is as powerful as you can get. If it was any stronger, it would cause a stack overflow.

Code: 

RI2HrTvv