Riflekind is one of the available Strife Specibus in the Overseer Project. There are currently 225 weapons of this type. Codes are whitened out to minimize spoilers.
Base Items
Edit
Rifle
Assail Penalty: -3
Assault Penalty: -5
Description: A firearm with more power than a pistol, although it does take up both your hands. Don't forget to aim!
Cost: 10 Build Grist
Code: h3Ad5h0T
Alchemized Items
Edit
SBAHA CROSHAR'S
Power: -9999
Description: The most legendary, most piece of shitty legendary piece of shit ever
Cost: -16777216
Code: 076ED300
Nerf Club
Power: 5
Description: Cause head traumas and shoot people's eyes out at the same time. Fun!
Bonus: Agress +2 Assault +3 Abstain -2
Specibus: Riflekind, Clubkind
Code: 2GHa010c
Film-action Rifle
Power: 16
Bonus: Assault +2
Cost: 20 Build Grist, 12 Amethyst Grist
Description: This sophisticated, finely crafted weapon lets you zoom in reel close for the perfect snapshot. Smile for the bullet!
Code: !tA!Lx6z
Recipe: Camera||Rifle
Riflescope
Power: 25
Assault Bonus: +5
Cost: 34 Build Grist, 12 Chalk Grist
Description:
Code: hNwdblQz
Recipe: Rifle||Telescope
ThunderGun
Power: 29
Bonus: aggrieve -1 assault +5 abuse +2 abstain +1
Description: Surprisingly shocking, this gun's electrically-charged bullets shoot through the air with the speed of lightning. Or maybe they're as fast as a regular gun's bullets. It's too fast for you to see either way.
Cost: 10 Build_Grist, 5 Copper, 25 Malachite, 50 Uranium
Code: x3!ldh!T
Targeted Dosage
Power: 35
Bonus: Aggrieve +5
Description: A rifle that shoots syringes. The beaches of LA have nothing on you now.
Code: 21855W0C
Can also be used as Sciencekind or Needlekind
Sniper Rifle
Power: 38
Bonus: Assail -5, Assault -10
Description: Able to hit an Ogre from a mile away, and an Imp or a Giclops's eye from half that. Being big hurts.
Cost: 50 Build_Grist, 30 Rust
Code: g3060g01
Violin Rifle
Power: 40
Bonus:Aggrieve 4
Cost: 100 Build Grist, 50 Cobalt Grist, 50 Copper Grist
Description: An interesting yet effective means of playing sweet, soothing tunes while blasting the face off of an imp or two. The peg box is removed to expose the barrel of the rifle hidden within the body of the instrument.
Code: hRAt5l?!
Recipe: Violin || Rifle
Sci-Fi Laserrator
Code: h3wl5!4T
Power: 41
Bonus: Assail +5
Description: Just like in almost every sci-fi movie and tv show ever made!
Can also be used as Laserkind
Shiny Rifle
Power: 50
Description: It's golden, yet somehow lightweight, and fires infinite volleys of sharp amethyst crystal bullets. You're pretty sure that if it somehow does run out of ammo, you're never finding more.
Code: !lA!rx3z
The Second Amendment
Power: 50
Description: Fight for what's right. Fight for your life!
Cost: 150 Build_Grist, 100 Blood, 100 Chalk, 100 Cobalt
Code: xVh!7xvV
Super Scope Sniper (N)
Power: 50
Bonus: Aggrieve +15, Abuse +10
Description: Pretty, pink and brought to you by the makers of your favorite game console, this electrically powered sniper rifle is for the agile, on the go gunman who just wants to have fun.
Cost: 324 Frosting, 108 Marble, 36 Rose Quartz, 12 Titanium
Code: fHAjeHMI
Shotgun Rifle
Power: 80
Bonus: Assault +7
Description: Combining the characteristics of the accurate and powerful Rifle and not so accurate but powerful Shotgun results in the Rifled Shotgun. It fires slug rounds for added power and accuracy.
Cost: 900 Build_Grist, 700 Rust, 500 Sunstone
Code: h!Rt!h8z
Tusken Laser Rifle
Power: 100
Bonus:
Cost: 1000 Build Grist, 2000 Sunstone
Description: A laser rifle used by the Tusken Raiders of Tatooine, now with deadly inaccuracy and an old-fashioned look.
Code: Z0004W0S
Aperture Science Hand-Held Portal Device
Power: 30
aggrieve +300
abuse +200
accuse +400
abjure +600
abstain +800
cost: 220000 chalk, 220000 obsidian, 10000 opal, 20000 star sapphire, 20000 topaz
description: A gun that shoots portals. You're not too sure how it could be used offensively, but it's still ridiculously cool!
Code: !ZA!jxEV
Abstratus: sciencekind, riflekind
Laser Rifle
Power: 245
Bonus: None
Description: Deadly accurate and powerful, the laser rifle has incredible range and rate of fire, with reduced need to reload. Batteries not included.
Cost: 1,000 Opal, 15,000 Titanium, 40,000 Uranium
Code: e3024X05
Fus-Rifle-Dah
Power: 500
Assault Bonus: 50
Abuse Bonus: 10
Abstain Penalty: 25
Cost: 50,000 Build Grist, 75,000 Cobalt Grist, 1000 Rainbow Grist
Description: A rifle that makes everything fly away from you. Strangely useful!
Code: hxFt5l4T
DOUBLE-BARREL RAPID-FIRE BACKPACK OF EXPLODING ASCENSION
Power: 638
Bonus: Aggress + 20 Assail + 40 Assault + 60 Accuse -20 Abjure -40 Abstain -60
Cost: 20000 Build, 50000 Blood, 5000 Copper, 60000 Tar
Description: It kinda reminds you of that time when you got those random items stuck in that rocket pack, except this time it's fully functional and spewing live grenades out of both orifices.
Code: xF!!V!uT
Abstratus: riflekind, automatickind, explosivekind, flying
Wailord Plush Rifle
Power: 832
Highest Active Bonus: 40
Cost: 23000 Build. 40000 Cobalt. 30000 Frosting. 30000 Shale.
Abstratus: Riflekind
Description: The Wailord Hunter was seized and refurbished by the Hoenn government to fire soft and cuddly Wailord plush toys -- at horrifyingly devastating speeds. Who knew cute things could kill so efficiently?
Code: 74P2f1Ii
110011101 Rifle
Power: 875
Aggrieve: +100
Description: A technological upgrade to the IVIII Rifle that gives its scope an advanced readout, allowing for more precise shots. You can play Snake on it, too.
Code: lVhEDR1i
Soul Force Laser/Rail Rifle
Code: 83000101
A rather heavy rifle with a skull amulet of dark power built into the stock. It allows the wielder to choose between the path of Newton and fire it as a railgun or the path of Einstein and fire it as a laser. Either way it's pretty bad.
Abstratus: Riflekind, Laserkind
Power: 1631
Aggrieve: 100
Assault: 100
Abuse: 100
Accuse: 100
Abstain: 100
Cost: 100000 Build Grist, 100000 Jet, 25000 Marble, 2000 Obsidian, 1000 Opal, 1000 Polychromite, 1000 Rainbow, 50000 Rust, 2000 Tar, 5000 Titanium, 10000 Topaz, 200000 Uranium
Space Lawyer's Ready Rifle
Code: 61100B04
Description: How does the avid lawman of the galaxies defend himself? With a laser firing rifle.
Abstratus: riflekind, laserkind
The Green Hero's First Instrument Of Change
Code: vRft7zUN
A Black cane with a sparkling gem in its head. Intricate metals carve a pattern in the hood. With a twist of the head it comes apart, a sword and its sheath. A twist in the other direction causes a handgrip, trigger, and scope to pop out, making it a high powered rifle. This weapon puts you at ease as you continue with your journey.
Abstratus: riflekind, canekind, bladekind
| | |
| --- | --- |
| power | 2310 |
| aggrieve | +231 |
| aggress | +231 |
| assail | +231 |
| abuse | +231 |
| accuse | +231 |
| abjure | +231 |
Girl's Best Friend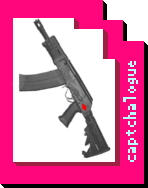 Rifles made of diamonds (or at least diamond grist) are a girl's best friend...
Power: 7550
Cost: 500,500 Diamond
Size: Large (40)
Abstratus: Riflekind
Code: Y18d1805
Green Sun Street Sweeper
Code: Y10W1804
This automatic weapon is bright green, and imprinted with the image of a white sun on either side, and appears to fire miniature versions of the green sun instead of bullets, but that's arguably more effective at raining death upon your enemies.
Abstratus: riflekind
| | |
| --- | --- |
| power | 8400 |
| aggrieve | +100 |
| aggress | +400 |
| assail | +600 |
| assault | +1200 |
Cost: 10,000,000 Build Grist, 100,000 Opal, 1,000,000 Uranium
Ahab's Crosshairs
Power: 9999
Bonus:
Cost: 16,777,215 Build Grist, 1 Star Sapphire
Description: Legendary piece of shit only wielded by the most desperate of wwhalers.
Code: FFFFFFWW
Ahab's Assault
Power: 9999
Cost: 10,000,000 Build , 700,000 Caulk ,10,000 Opal
Description: Bring fear to the seas and unleash a reign of terror with your high rate of fire.
Recipe: Lancer Assault Rifle || Ahab's Crosshairs
Code: V!V!!!!r
BFG65535
Power: 9999
Bonuses: +9999 to all passive/active attacks
16777215 Build, 6553500 Copper, 655350 Diamond, 8388607 gold, 6553500 Jet, 6553500 Mercury, 6553500 Rainbow, 655350 Redstone, 655350 Sulfer, 6553500 Titanium
Description: This weapon is as powerful as you can get. If it was any stronger, it would cause a stack overflow.
Code: RI2HrTvv
Paper Super Scope Description: The previous version may have been more... wield-able, but this Paper Super Scope can shoot infrared with the best of them. Pro-Tip: For best results, aim for paper ducks.
Code: xtU!gttU
Power: 14
Agress: +1
Assault: +2
Abstain: -1
Can also be used as Gamekind or Paperkind
Microwave Rifle Description: You didn't think it was a good idea, and it isn't. If anything it's dangerous to even hold the thing. But oh, is it fun!
Code: W183490S
Power: 85
Assault: +15
Abjure: -15
Abstain: -15
Jousting Riflance Description: A lance with a trigger on the handle. You're not actually sure how useful this is, but it's pretty awesome.
Code: f02d0308
Power: 31
Agress: +3
Can also be used as Lancekind
Fart Gun You wanted to alchemize a Dart Gun, not a... UGH! What is that disgusting smell?
Power: 12
Code: X08X010H
Cost: 11 Build Grist, 11 Jet, 23 Sulfur
Cut Rifle Description: Probably the most versatile item you've seen - a giant pair of scissors with a detachable rifle head mounted on one blade. You wouldn't say this is the most powerful weapon ever - after all, the blades aren't even double-edged - but man, this thing is badass.
Code: l3V!rln!
Power: 27
Aggrieve: +5
Accuse: -5
Can also be used as Scissorkind
SciFi Tele-Laserrator It looks like something straight out of a SciFi film. Don't ever look straight down the barrel.
Code: f1oY1b0L
Power: 98
Can also be used as Lenskind or Laserkind
Heisenberg's Revenge
Power: 9999
Bonus: +3000 to all passive/active attacks
Description: Somehow, the lasers fired by this gun take every single possible path at once before hitting an enemy and collapsing their wavefunctions to a single one. Quantum mechanics sure are weird!
Cost: 10,000,000 Build_Grist, 200,000 Copper, 2,000,000 Polychromite, 2,000,000 Rainbow, 3,000,000 Redstone, 2,000,000 Titanium, 4,000,000 Uranium
Can be used as Laserkind and Sciencekind
Code: !!x!!!!!
Community content is available under
CC-BY-SA
unless otherwise noted.