Riflekind is one of the available Strife Specibus in the Overseer Project. There are currently 225 weapons of this type. Codes are whitened out to minimize spoilers.
Base Items
[
]
Rifle
Code: h3Ad5h0T
Assail: -3
Assault: -5
Accuse: -4
Abjure: -2
Description: A firearm with more power than a pistol, although it does take up both your hands. Don't forget to aim!
Cost: 10 Build Grist
Alchemized Items
[
]
Sbaha Croshar\'s

[

]
 Aggrieve: -9999
 Aggress: -9999
 Assail: -9999
 Assault: -9999
 Abuse: -9999
 Accuse: -9999
 Abjure: -9999
 Abstain: -9999
 Description: The most legendary, most piece of shitty legendary piece of shit ever
 Cost: -19777216 Artifact
Fushon Rifl

[

]
 Code: 02021204
 Power: -131
 Aggrieve: -150
 Aggress: -160
 Assail: -180
 Assult: -200
 Description: If drawn by a competent artist, this would be terrifying. As it is, you're more likely to give yourself artifact radiation poisoning holding this than to do any damage to your enemies.
 Cost: -12040 Artifact; 4 Titanium; 11,111 Uranium
Nerf Club

[

]
 Code: 2GHa010c
 Power: 5
 Aggress: +2
 Assault: +3
 Abstain: -2
 Description: Cause head traumas and shoot people's eyes out at the same time. Fun!
 Cost: 20 Build
Fart Gun

[

]
 Code: X08X010H
 Power: 12
 Descrition: You wanted to alchemize a Dart Gun, not a... UGH! What is that disgusting smell?
 Cost: 11 Build; 11 Jet; 23 Sulfur
Paper Super Scope

[

]
 Code: xtU!gttU
 Power: 14
 Agress: +1
 Assault: +2
 Abstain: -1
Description: The previous version may have been more... wield-able, but this Paper Super Scope can shoot infrared with the best of them. Pro-Tip: For best results, aim for paper ducks.
Cost: 10 Build; 20 Chalk; 10 Uranium
Film-action Rifle

[

]
 Code: !tA!Lx6z
 Recipe: Camera||Rifle
 Power: 16
 Assault: +2
 Description: This sophisticated, finely crafted weapon lets you zoom in reel close for the perfect snapshot. Smile for the bullet!
 Cost: 20 Build Grist; 12 Amethyst Grist
Home Invasion Shot Gun

[

]
 Code: lJAdDxV!
 Power: 16
 Assail: +1
 Accuse: +2
 Decription:This pump action fires rounds of salt, because a gentleman seeks to disarm before maim. It's also packed with deadly shrapnel, because a man doesn't mess around when protecting his family.
 Cost: 10 Build; 15 Jet
Riflescope

[

]
 Code: hNwdblQz
 Recipe: Rifle||Telescope
 Power: 25
 Aggrieve: +5
 Abjure: -2
 Abstain: -3
 Description: A gun with a barrel that can extend to a length of several meters. Great for people with abysmal aim who want to increase their point-blank range, but not particularly useful for most other people.
 Cost: 34 Build Grist; 12 Chalk Grist
Bayoneted Rifle

[

]
Code: !NglThLV
 Power: 27
 Assail: +1
 Description: For when shooting OR stabbing just isn't good enough.
 Cost: 16 Build; 10 Iodine
Cut Rifle

[

]
 Code: l3V!rln!
 Power: 27
 Aggrieve: +5
 Accuse: -5
 Description: Probably the most versatile item you've seen - a giant pair of scissors with a detachable rifle head mounted on one blade. You wouldn't say this is the most powerful weapon ever - after all, the blades aren't even double-edged - but man, this thing is badass.
 Cost: 100 Build; 60 Jet
ThunderGun

[

]
Code: x3!ldh!T
 Power: 29
 Aggrieve: -1
 Assault: +5
 Abuse: +2
 Abstain +1
 Description: Surprisingly shocking, this gun's electrically-charged bullets shoot through the air with the speed of lightning. Or maybe they're as fast as a regular gun's bullets. It's too fast for you to see either way.
 Cost: 10 Build_Grist; 5 Copper; 25 Malachite; 50 Uranium
Aperture Science Hand-Held Portal Device

[

]
 Code: !ZA!jxEV
 Power: 30
 Aggrieve: +300
 Abuse: +200
 Accuse: +400
 Abjure: +600
 Abstain: +800
 Decription: A gun that shoots portals. You're not too sure how it could be used offensively, but it's still ridiculously cool!
 Cost: 220,000 Chalk; 22,000 Obsidian; 10,000 Opal; 20,000 Star Saphire; 20,000 Topaz
Jousting Riflance

[

]
 Code: f02d0308
 Power: 31
 Agress: +3
 Description: A lance with a trigger on the handle. You're not actually sure how useful this is, but it's pretty awesome.
 Cost: 50 Build; 29 Amethyst; 36 Iodine; 29 Rust
Targeted Dosage

[

]
 Code: 21855W0C
 Power: 35
 Aggrieve: +5
 Description: A rifle that shoots syringes. The beaches of LA have nothing on you now.
Cost: 35 Build; 25 Iodine; 5 Mercury; 15 Uranium
Sniper Rifle
 Code: g3060g01
 Power: 38
 Bonus: Assail -5, Assault -10
 Description: Able to hit an Ogre from a mile away, and an Imp or a Giclops's eye from half that. Being big hurts.
 Cost: 50 Build; 30 Rust
Violin Rifle

[

]
 Code: hRAt5l?!
 Recipe: Violin || Rifle
 Power: 40
 Aggrieve: +4
 Description: An interesting yet effective means of playing sweet, soothing tunes while blasting the face off of an imp or two. The peg box is removed to expose the barrel of the rifle hidden within the body of the instrument.
 Cost: 100 Build Grist; 50 Cobalt Grist; 50 Copper Grist
Sci-Fi Laserrator

[

]
 Code: h3wl5!4T
 Power: 41
 Assail: +5
 Description: Just like in almost every sci-fi movie and tv show ever made!
 Can also be used as Laserkind
 Cost: 52 Build; 12 Caulk; 50 Sunstone
Shiny Rifle

[

]
 Code: !lA!rx3z
 Power: 50
 Description: It's golden, yet somehow lightweight, and fires infinite volleys of sharp amethyst crystal bullets. You're pretty sure that if it somehow does run out of ammo, you're never finding more.
 Cost: 50 Build; 35 Amethyst; 35 Gold; 20 Tar
The Second Amendment

[

]
 Code: xVh!7xvV
 Power: 50
 Description: Fight for what's right. Fight for your life!
 Cost: 150 Build; 100 Blood; 100 Chalk; 100 Cobalt
Sugar Scope Sniper (N)

[

]
 Code: fHAjeHMI
 Power: 50
 Aggrieve: +15
 Abuse: +10
 Description: Pretty, pink and brought to you by the makers of your favorite game console, this electrically powered sniper rifle is for the agile, on the go gunman who just wants to have fun.
 Cost: 324 Frosting; 108 Marble; 36 Rose Quartz; 12 Titanium
Disk Launcher

[

]
 Code: xlA!V!5V
 Power: 60
 Aggrieve: +8
 Abuse: +7
 Description: Ahh, the memories of days spent collecting those shitty glow-in-the-dark plastic disks that look virtually the same in every way except for three numbers at the bottom. Well, now they actually deal damage!
 Cost: 546 Build; 600 Mercury; 153 Titanium
Shotgun Rifle

[

]
 Code: h!Rt!h8z
 Power: 80
 Assault: +7
 Description: Combining the characteristics of the accurate and powerful Rifle and not so accurate but powerful Shotgun results in the Rifled Shotgun. It fires slug rounds for added power and accuracy.
 Cost: 900 Build; 700 Rust; 500 Sunstone
Microwave Rifle

[

]
 Code: W183490S
 Power: 85
 Assault: +15
 Abjure: -15
 Abstain: -15
 Description:  You didn't think it was a good idea, and it isn't. If anything it's dangerous to even hold the thing. But oh, is it fun!
 Cost: 150 Build; 350 Redstone; 750 Uranium
SciFi Tele-Laserrator

[

]
 Code: f1oY1b0L
 Power: 98
 Description: It looks like something straight out of a SciFi film. Don't ever look straight down the barrel.
 Cost: 50 Diamond; 150 Rainbow; 250 Titanium; 750 Uranium
Mami-nigun

[

]
 Code: h3A54B0S
 Power: 100
 Description: An older musket-like rifle that apparently requires no ammunition. Might run on MAGIC, if that were real and not FAKE.
 Cost: 1,000 Build; 1,000 Caulk; 1 Frosting
Tusken Laser Rifle

[

]
Code: Z0004W0S
Power: 100
Decription:
Cost: 1,000 Build; 2,000 Sunstone
Electrolaser Rifle

[

]
 Code: 32gl1V4L
 Power: 133
 Description: This rifle uses far-ultraviolet laser beams to ionize a path through the air allowing a straight line of electrical discharge to the target.
 Cost: 1000 Build; 500 Amethyst; 750 Caulk; 400 Copper; 400 Diamond; 2,000 Rust; 1 Uranium
Skipper Plumbthroat\'s Squiddlehunting Harpoon Gun

[

]
 Code: hP!oXBkq
 Power: 140
 Aggress: +14
 Abuse: +9
 Description: Warning: This item is not suitable for use by anybody under the age of 10. So tell your parents it's a toy!
 Cost: 10,000 Build; 7,000 Rose Quartz; 10,000 Tar; 3,000 Titanium
Laser Rifle

[

]
Code: e3024X05
Power: 245
Description: Deadly accurate and powerful, the laser rifle has incredible range and rate of fire, with reduced need to reload. Batteries not included.
Cost: 1,000 Opal; 15,000 Titanium; 40,000 Uranium
Dual Scoped SigarRos Repeater

[

]
 Code: XHYfenCM
 Power: 331
 Abuse: +100
 Accuse: +30
 Abjure: +90
 Abstain: +120
 Description: This sniper rifle offers ambient voidy majyyks to keep you hidden from foes, as well as a variety of scopes and booming .308 caliber auto-loading thorned bullets to make your presence known.
 Cost: 12,000 Amethyst; 10,000 Frosting; 4,000 Rose Quartz; 2,000 Rust
Fus-Rifle-Dah

[

]
Code: hxFt5l4T
Power: 500
Assult: +50
Abuse: +10
Abstain: -25
Description: A rifle that makes everything fly away from you. Strangely useful!
Cost: 50,000 Build; 75,000 Cobalt; 1,000 Rainbow
Wailord Hunter

[

]
 Code: l5TEhBM!
 Power: 650
 Assail: +30
 Abjure: +30
 Description: A harpoon rifle with the sheer size and power to fell the most massive of Wailords. Frowned upon by the Hoenn government.
Cost: 32,100 Obsidian; 10,321 Quartz; 14,000 Titanium
DOUBLE-BARREL RAPID-FIRE BACKPACK OF EXPLODING ASCENSION

[

]
Code: xF!!V!uT
Power: 638
Aggress: +20
Assail: +40
Assault: +60
Accuse: -20
Abjure: -40
Abstain: -60
Description: It kinda reminds you of that time when you got those random items stuck in that rocket pack, except this time it's fully functional and spewing live grenades out of both orifices.
Cost: 20,000 Build; 50,000 Blood; 5,000 Copper; 60,000 Tar
Soul Force Laser/Rail Rifle

[

]
Code: 83000101
Power: 1631
Aggrieve: +100
Assault: +100
Abuse: +100
Accuse: +100
Abstain: +100
Description: A rather heavy rifle with a skull amulet of dark power built into the stock. It allows the wielder to choose between the path of Newton and fire it as a railgun or the path of Einstein and fire it as a laser. Either way it's pretty bad.
Cost: 100,000 Buid; 100,000 Jet; 25,000 Marble; 1,000 Opal; 1,000 Polychromite; 1,000 Rainbow; 50,000 Rust; 2,000 Tar; 5,000 Titanium; 10,000 Topaz; 200,000 Uranium
Girl's Best Friend

[

]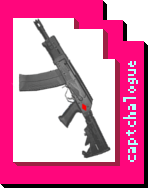 Code: Y18d1805
Power: 7550
Description: Rifles made of diamonds (or at least diamond grist) are a girl's best friend...
Cost: 500,500 Diamond