A strife specibus available on the Overseer Project.
Base Items
Edit
Laser Pointer Edit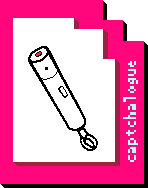 Careful, you might put someone's eye out!
Code: e3mAKr4d
Strength: 2
Abstratus: Laserkind
Cost: 2 Build grist, 1 Garnet
Alchemized Items
Edit
Laser Vision
Edit
You're not sure these spectacles actually give you any notable skills other than the power to blind.
Formula: Eyeglasses && Laser Pointer or Code: ?drU?!Md
Strength: 0
Aggrieve: 5
Cost: 21 Build Grist, 20 Copper
Hammer Laser
Edit
This battery operated device projects the image of a hammer, which unfortunately cannot actually make physical contact with enemies. You could probably point it at their eyes to blind them a little though.
Formula: Claw Hammer && Laser Pointer
Code: W30AG402
Strength: 2
Cost: 2 Ruby
Masked Man's Laser
Edit
A laser used by a Masked Man. It's reportedly very dangerous. Careful.
Formula: MOTHER 3 Cartridge && Laser Pointer
Code: 02084r4W
Strength: 24
Assault: 3
Abstratus: Laserkind
Cost: 42 Build Grist, 38 Jet
Laser Pistol

Edit
A normal Laser Pistol that you can find in every Sci-Fi B-movie. Still, you can't deny how cool it is!
Formula: N/A
Code: x3mVqrr!
Strength: 32
Assail: 2
Abstratus: Pistolkind, Laserkind
Cost: 50 Build grist, 300 Copper, 16 Redstone
Umbrellaser
Edit
This fires a laser when you open or close it. Completely useless against rain.
Formula: Laser Pointer && Umbrella
Code: 82W0Ka45
Strength: 154
Abjure: 10
Abstain: 20
Abstratus: Laserkind, Umbrellakind
Cost: 2000 Build, 1500 Redstone, 1500 Ruby, 150 Titanium
Laser Umbrella
Edit
Oh dear, it seems to be raining. I'll just open up my umbrella here and- BWAAAAAAAAAAAAAAAA!
Formula: Laser Pointer || Umbrella
Code: fR?w?zSt
Strength: 296
Assault: 25
Abstratus: Laserkind, Umbrellakind
Cost: 10000 Build, 10000 Cobalt, 12000 Ruby
Shrink Ray Edit
Power: 700
Cost: 21000 Mercury, 5,000 Quartz, 41000 titanium, 21000 uranium
Code: e1G2KK4d
Nine-Ball Laserneedlewands
Edit
These things are simply ridiculous. Be careful to not shoot your eye out with these needlelaserwands.
Code: YwKxsrrY
power 1200
assail +20
accuse +10
40,000 Emerald, 40,000 Malachite, 30,000 Opal, 30,000 Rust, 40,000 Uranium
Soul Force Laser/Rail Rifle Edit
A rather heavy rifle with a skull amulet of dark power built into the stock. It allows the wielder to choose between the path of Newton and fire it as a railgun or the path of Einstein and fire it as a laser. Either way it's pretty bad.
Code: 83000101
Strength: 1631
Highest Active Bonus: 100
Highest Passive Bonus: 100
Abstratus: Laserkind, Riflekind
Cost: 100,000 Build Grist, 100,000 Jet, 25,000 Marble, 2,000 Obsidian, 1,000 Opal, 1,000 Polychromite, 1,000 Rainbow, 50,000 Rust, 2,000 Tar, 5,000 Titanium, 10,000 Topaz, 200,000 Uranium
Community content is available under
CC-BY-SA
unless otherwise noted.