A strife specibus available on the Overseer Project.
Base Items
Edit
Ice Cube
It's a simple ice cube.
Code: 1c3cub3!
Strength: 1
Abstratus: cubekind, foodkind
Cost: 3 Build Grist, 1 Permafrost
Cooler
A cooler filled to the brim with the delights of your choice... assuming the "delights of your choice" cost about 20$ or less. It might be worth smacking an imp with it.
Code: PiCnIcS!
Strength: 8
Assail: -4
Assault: -6
Abstratus: Foodkind
Cost: 9 Build Grist, 1 Amber
Freezie
A frozen, syrupy treat in a large plastic package that is ALWAYS going to cut your mouth with its sharp sides. Maybe be worth hitting things with.
Code: tRtxXxxS
Strength: 3
Abstratus: foodkind
Cost: 4 Build Grist, 1 Frosting

Spice Rack
You captchalogued an entire spice rack? Genius.
Code: H3RB!M1X
Strength: 6
Abstratus: Foodkind
Cost: 5 Build Grist, 3 Iodine
Thermos
A thermos that has been filled with coffee at some point prior to you possessing it (hopefully not too long ago, though). Throwing it at something is at least somewhat viable.
Code: SHHjYuYu
Strength: 2
Accuse 1
Abstratus: Foodkind
Cost: 2 Build Grist, 1 Uranium
Week-old Baguette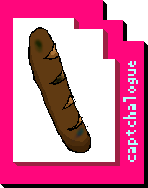 A completely dried out, long loaf of bread. This thing has become so hard, you could cut your teeth on it.
Code: T!yd?lR!
Strength: 3
Abstratus: Foodkind
Cost: 7 Build Grist
Club Sandwich
This toasted, three-layer sandwich stuffed with turkey, lettuce, bacon, and tomato looks absolutely delicious. Why would you do anything with this other than eat it?
Code: !De1i5hh
Strength: 2
Abstratus: foodkind, clubkind
Cost: 3 Build Grist, 1 Blood, 1 Frosting
Alchemized Items
Edit
Pizza Pizza Cutter
A cutter made from pizza, for pizza. Hopefully not by pizza though. That'd make things even more bizarre.
Code: W6mWY9G2
Strength: 10
Abstratus: pizzacutterkind, foodkind
Cost: 8 Amber, 8 Blood, 8 Rust
Watermelon-flavored Rock Candy
A watermelon-flavoured stick of rock candy. Summery!
Code: !Vltzx7Y
Strength: 12
Abstratus: rockkind, foodkind
Cost: 9 Build Grist, 4 Rock Candy, 3 Rose Quartz
Over-carbonated Cola Can
This can is distended under the extreme pressure it's under. If you threw it, it might explode.
Code: !ptVzzy!
Strength: 24
Abstratus: foodkind, explosivekind
Cost: 34 Build Grist, 46 Copper
Popsickle
A tasty treat that's labeled as "Strawburial Flavor". Whatever that means.
Code: qM!lk!yy
Strength: 25
Aggrieve +1
Abuse +1
Abstratus: foodkind, sicklekind
Cost: 50 Build Grist, 25 Frosting
Vitamin C-4
This sticky-sweet device packs a surprisingly violent fruit punch!
Code: u0uiS6WK
Strength: 27
Abstratus: explosivekind, foodkind
Cost: 62 Build Grist, 22 Iodine, 7 Redstone

Inline Lunchabomb Skates
Explosive bits of ham and cheese attached to your feet. What could go wrong?
Code: y7?WE9If
Strength: 30
Abstratus: footwearkind, foodkind, accessory
Cost: 50 Build Grist, 100 Jet, 10 Redstone
Meaty Meat Hook
Used to hold organs and whole animals in butcher's shops, the meat hook is a sharp and possibly dangerous tool normally attached to a chain. This one is just stuck into a slab of meat.
Code: rJRV!U1v
Strength: 69
Abstratus: foodkind
Cost: 150 Amber, 150 Blood, 150 Iodine, 150 Jet, 150 Marble

The Breadstick
With this elongated and completely rock-solid breadstick, you will master the not-so-ancient fighting technique developed by mediocre Italian restaurant owners across the globe.
Code: D6qWmdHP
Strength: 150
Abjure +25
Abstratus: Foodkind, staffkind
Cost: 1500 Build Grist, 2000 Gold, 2500 Rust
Leek Sword
Edit
And they said the leekspin was a joke... Maybe if you stabbed them a few times with this extremely sharp leek, you'll knock some sense into them.
Code: zRx!7p!N
Strength: 390
Aggrieve: +39
Aggress +39
Assail +39
Assault +39
Abuse +39
Accuse +39
Abjure +39
Abstain +39
Abstratus: Foodkind, Bladekind
Cost: 39000 Build Grist, 13900 Emerald, 390 Rainbow, and 3900 Titanium
Ultimate Faygo Powered Arm Cannon
A Faygo Powered Arm Cannon. Dare I say more?
Code: oZSZcL26
Strength: 7900
Aggrieve +413
Aggress +695
Assail +856
Assault +987
Abuse +789
Accuse +789
Abjure +789
Abstain +789
Abstratus: foodkind, glovekind
Cost: 177421 Diamond, 294452 Emerald, 500000 Gold, 300000 Mercury, 150000 Opal, 150000 Polychromite, 150000 Rainbow, 573860 Sunstone
Community content is available under
CC-BY-SA
unless otherwise noted.