A strife specibus available in the Overseer Project.
Base Items
Set of Wooden Darts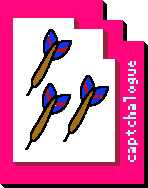 A basic set of wooden darts for the aspiring aficionado.
Code: R6Jv9U9H
Strength: 3
Aggrieve 1
Assail 1
Abstratus: Dartkind
Cost: 4 Build Grist
Alchemized Items
Spellcharged Darts:
These darts hum with various minor spells, and some of them give you shocks when you touch them.
Code: 

V!Vzl!!t

Strength: 47
Highest Active Bonus: 3
Highest Passive Bonus:14
Abstratus: Dartkind
Components: ?
Cost: 186 Build_Grist, 186 Amethyst, 186 Blood
Flame Darts
Small darts with fire on their peaks. Powerful enough.
Code: P0Hn0091
Strength: 34
Abstratus: Dartkind
Components: ?
Cost: 150 Build_Grist, 70 Sunstone, 180 Tar