Computers
Edit
To begin playing The Overseer project, you need an item with the "Computer" specibus. This allows you to run SBurb Server edition and connect to your Client player to deploy their devices. 
Base Items
Edit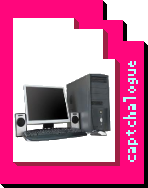 A basic desktop computer. It's not the best, but it gets the job done.
Code: l33MaPnk
Cost: 8 Build Grist, 1 Gold
Note:  Must be placed into storage for access to to SBurb Server.
A netbook computer. It runs Sburb slowly due to lower processing power, but it's a fair bit more portable.
Code: nDW61zaP
Cost: 5 Build Grist
A laptop computer. An essential basic device for running Sburb on the go.
Code: eLWbq4?Z
Cost: 10 Build Grist
An iPhone, one of the many models made by Apple. Looks pretty shiny and sleek.
Code: l2?uwA4G
Cost: 3 Build Grist; 1 Marble; 1 Obsidian; 1 Titanium
Droid Razr
Edit
Smartphone that's not an iPhone. Now you can be a hipster among hipsters!
Code: zYyx2YtX
Cost: 2 Build Grist; 1 Copper; 1 Marble.
A small, handy device for pestering on the go. Wait, who even uses PDAs anymore? You do, apparently.
Code: yVX3bmF4
Cost: 15 Build Grist
Alchemized Items
Edit
Computer Headset
Edit
A totally mobile computer that allows you to communicate with others on the move. You could've just gotten a laptop, you know.
Code: !dhV?x!l
Recipe: Computer || Headset
Cost: 10 Build grist; 10 Copper; 10 Jet.
Crystaline Laptop of Darkness
Edit
This laptop infused with black magic is sure to be useful in keeping up with horror terror communications... Or you could use it for playing Slender, that works too.
Code: eHWXq4kZ
Recipe:
Cost: 750 Obsidian; 250 Star_Sapphire
Computerized Hoodie
Edit
Long may you compute in comfy comfort with this fluffy hoodie with an entire computer integrated into it. Too bad it's rather bulky - But who needs to move when you havethe entire Internet at your fingertips?
Code: l!dtzTxl
Recipe: Computer || Hoodie
Cost: 50 Build grist; 20 Mercury 
This phone is never going to give you up, not even when you're in a tunnel or out of your phone company's service area.
Code: lt?!w14!
Recipe:
Cost: 25 Build Grist; 10 Gold; 25 Jet
Headlampset
Edit
Useful for communicating in dark and dangerous places, the Headlampset shines light in front of you to ensure you're never cut off or blind.
Code: 50e0AY0j
Recipe:
Cost: 10 Build Grist; 15 Sunstone
This godly hoodie grants you instantaneous access to the Olympian Cloud and the ability to communicate with any other being, mortal or otherwise, who is also connected. Which is basically a fancy way of saying it connects to the internet.
Code: ZzcdzDwh
Recipe: 
Cost: 40 Gold; 60 Jet
Astleytop
Edit
A fancy computer featuring the unforgettably handsome Rick Astley. His hit song plays in the background seemingly all the time.
Code: lrWlql?l
Recipe:
Cost: 75 Build Grist, 50 Gold, 40 Mercury, 50 Sunstone
​Miracle of Deletion
Edit
This computer deletes all things you would rather not see before you see them, preventing trauma that would need brain bleach to heal.
Code: u14aW5a6
Recipe:
Cost: 800 Build Grist; 33 Blood; 50 Polychromite; 250 Redstone; 99 Ruby
Feltputer
Edit
This computer comes in a round shape, is green, and in keeping with Felt theming, has Die's number on the top of the lid.
Code: gNrzrN?l
Recipe:
Cost: 800 Build Grist; 214 Emerald; 167 Uranium
Cosbytop Computer
Edit
This thing is probably a useless piece of shit, but making it has caused you to feel an alarming sense of satisfaction.
Code: C0120HnA
Recipe:
Cost 30 Build Grist; 10 Shale
Sburb Gaming Computer
Edit
This computer is made to perfectly run with the game SBurb. It also has many built in bonus features for the game.
Code: hQJK4Hf4
Recipe: Alienware Computer || Sburb Game Manual
Cost: 100,000 Build Grist; 10 Amber; 10 Amethyst; 10 Blood; 10 Caulk; 10 Chalk; 10 Cobalt; 10 Copper; 2,500 Diamond; 10 Emerald; 10 Frosting; 10 Garnet; 10 Gold; 10 Iodine; 10 Jet; 10 Malochite; 10 Marble; 10 Mercury; 5,000 Obsidian; 10 Opal; 10 Polychomite; 10 Quart; 10 Rainbow; 4,500 Redstone; 10 Rock Candy; 10 Rose Quartz; 10 Ruby; 10 Rust; 10 Shale; 10,000 Sapphire; 10 Sulphur; 10 Sunstone; 20,000 Tar; 10,000 Titanium; 10 Topaz; 10,000 Uranium.
Note: Has an effect when placed into storage.

Effect: Advanced Session Viewer: Allows player to view session(s) in more detail, showing Land Wealth amongst other information.
Community content is available under
CC-BY-SA
unless otherwise noted.