A strife specibus available in the Overseer Project.
Base Items
Metal Folding Chair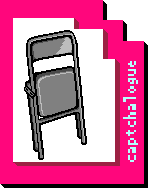 Power: 5
Aggress: 2
Abjure -2
Cost: 4 Build Grist, 1 Copper
'Your basic folding chair, perfect for relaxing at a school play, or smacking people around. Wrestlemania!!'
Wheelchair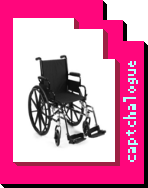 Power: 4
+4 Accuse
+4 Abjure
+4 Abstain
-4 Assault
Cost: 12 Build Grist
You've got to get around somehow, you guess.
Alchemized Items
Toast-Chair
Wheelchair || Toaster
Power: 18
+4 Abjure
+4 Abstain
+4 Assail
Cost: 20 Build Grist, 30 Amber
A chair that dispenses toast at high speeds, in the form of wheels. This sure is a more accessible way to eat toast!
Reindeerless Sleigh
Wheelchair || Christmas Wreath
Power: 20
Cost: 25 Build Grist, 12 Emerald, 25 Ruby
A small, one-person sleigh with nothing to pull it. It's actually kinda depressing.

Netchair
Wheelchair && Netbook
Power: 20
+2 Aggress
Cost: 35 Build Grist, 25 Jet, 4 Titanium
Instead of a seat, its a computer! Which makes sitting useless in it.

Freezychair
Wheelchair || Ice Sculpture
Power: 30
Cost: 38 Build Grist, 27 Frosting, 10 Gold
A semi-functional wheeled device for yetis or snowmen to sit in when their legs don't quite work. This chair doesn't quite work, actually, or at least not as a chair.
Mad Chemist\'s Wheelchair
Wheelchair || Chemistry Set
Power: 30
+5 Abjure
+10 Assail
Cost: 100 Build Grist, 80 Mercury, 35 Rust, 6 Tar, 92 Uranium
It probably belonged to one of those "mad scientists". No one knows how he died... Wait, there's an acid leaking from it!

Rocket Chair
Wheelchair || Rocket Shoes
Power: 50
Cost: 500 Build Grist, 400 Amber, 300 Redstone, 200 Sunstone, 100 Topaz
Fly through the sky, in all your paraplegic glory! Or if you're not paraplegic, fly through the sky like the lazy bum you are!
The Hurting
Metal Folding Chair || Skullgirls
Power: 56
+5 Abuse
+5 Aggress
Cost: 500 Build Grist, 800 Blood, 125 Redstone
This nondescript red folding chair doesn't seem to dent, bend, or otherwise break no matter how much stuff you beat the crap out of, that and you feel like you could do some pretty sweet wrestling moves involving it.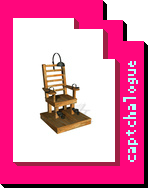 Electric Chair
Metal Folding Chair || Battery
Power: 90
+2 Aggrieve
Cost: 500 Build Grist, 2,000 Copper, 500 Gold
Going up against this thing would be a death sentence.
Scottish Folding Chairmore
Metal Folding Chair && Claymore
Power: 100
+5 Assault
Cost: 5,000 Copper, 2,300 Gold
Forged in the druken fires of Scottland, this folding Chairmore has a sturdy blade for each one of its legs.
Throne
Wheelchair && The Legend of King Arthur
Power: 400
-40 Abuse
-80 Accuse
-120 Abjure
-160 Abstain
A simple stone throne that still manages to command respect from those around you. Or maybe they're kneeling because you just whacked them over the head with a throne.
Fiduspawn Chair Cards
Wheelchair && Fiduspawn Cards
Power: 612
+150 Abuse
+150 Aggress
Cost: 40,000 Build Grist, 80,000 Frosting, 80,000 Iodine, 80,000 Rust
Wheelchairs the size of cards that are also somehow moving on their own?! Wow, look at them go.
The Golden Throne of Mankind
Throne && Astartes Chainsword
Power: 1000
Cost: 25,000 Blood, 100,000 Gold, 50,000 Titanium
The throne in which the God-Emperor of Mankind sits, extending and preserving his life. WARNING: God-Emperor of Mankind comes separately.
Weaponized Rocket Chair
Rocket Chair && Mounted Machine Gun
Power: 1,100
+50 Abuse
+100 Accuse
+150 Abjure
+200 Abstain
Cost: 300,000 Build Grist, 350,000 Copper, 45,000 Redstone, 350,000 Rust, 45,000 Titanium, 100,000 Topaz
A flying chair with a large machine gun mounted on the front for easy usage. Whether you got here from the rocket chair or machine gun, it's a huge improvement no matter what.
Derse Throne
Throne || Derse Globe
Power: 2,300
+10 Aggress
+20 Assail
+30 Assault
Cost: 215,000 Amethyst, 154,000 Chalk, 142,000 Chalk, 142,000 Jet, 26,000 Obsidian, 145,000 Shale
It really doesn't surprise you that even their thrones have been optimized for damage output.
Ultimate Chair
Skaian Defense Chair
Weaponized Rocket Chair && Skaianet Handheld Defense Portal Device
Power: 9,999
+9,999 Abuse
+9,999 Accuse
+9,999 Abjure
+9,999 Abstain
+9,999 Aggrieve
+9,999 Aggress
+9,999 Assail
+9,999 Assault
Cost: 16,000,000 Build Grist, 8,000,000 Chalk, 8,000,000 Obsidian, 5,375,080 Redstone, 2,922,446 Rust, 3,025,100 Star Sapphire, 2,700,250 Titanium, 1,770,617 Topaz, 2,277,418 Uranium
This rocket chair comes equipped with a modified Skaianet Defense Portal Gun capable of shooting meteors at a rate of 10 per minute. It also hurts to be hit over the head with, if you're that kind of person.
Community content is available under
CC-BY-SA
unless otherwise noted.